Jesada Technik Museum and Tourism Authority of Thailand with the honored co-operation of Royal Thai Army have organized Microcar Parade for the Celebration on the Auspicious Occasion of His Majesty the King 85th Birthday Anniversary on 5th December 2012.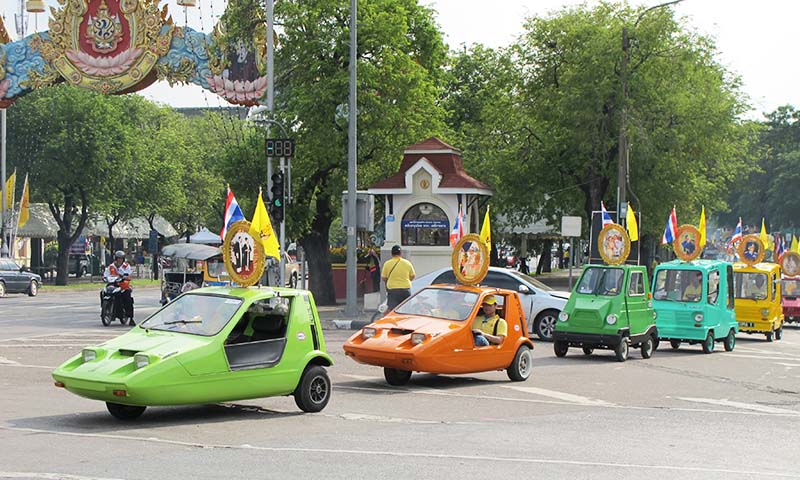 This is the second time on street of Thailand to have Microcar parade event after it was previously held in December 2010. And this time is more fantastic because of the large amount of 99 microcars, 11 Solex Bicycles, 11 Asean Paddle Rickshaws, 2 seven-seat bicycles, 16 international buses and some other classic cars. The cars are driven by Asean diplomats, soldiers, police men, sport men, movie stars, artists, students, business men, and museum staffs.
The procession starts at 3 P.M. moving from the Royal Thai Army Headquarters to Ratchadamnoen Avenue passing United Nations building, heading to the Royal Plaza before making u-turn and taking over Ratchadamnoen again moving to the wall of the Grand Palace, the starting point of the 5-kilometer historical avenue.
King Bhumibol was born on December 5, 1927 and after the coronation in 1950, his birthday have become the National Father Day (alongside with the Queen's Birthday becoming National Mother Day – August 12,). Every year, Thai people celebrate the King's Birthday by creating activities mostly in traditional ways to pay homage to the king throughout the country.
There have been some tribute parades celebrating the King's Birthday before, for example cultural dress-up parade. Mr.Jesada Dejsakulrit, the president of Jesada Technik Museum, possess many kinds of vehicle. Among them, he has around 300 Microcars. This is why the idea of Microcar Parade came up for a celebration of the King's Birthday.
At night, international buses and Checker Aerobus limousines serve the sightseeing tour to passengers who attend the event at Sanam Luang (Royal Park) and around Rattanakosin Island, the historic center of Bangkok.